The Glass Ladder Group helps people from different cultures work together more effectively by using strategy, research and training and is passionate about preparing individuals across sectors to develop, thrive and adapt in any culture, leading to organizational, personal and professional advancement. Glass Ladder Group is currently developing an expansion program that will shift its business model.
Bias in hiring process can hurt people, companies and economies.
Provide our client an intuitive and blind application based SAAS platform website that enables their business to provide a hiring system that is bias-lowering and reflective of the users merits.
BUSINESS GOALS
Meeting business goals are as important as satisfying users' wants and needs. We were looking to address how our design could:
Create a hiring system that decreases bias while incorporating cultural perspectives, communication styles personality, and work ethics
Create engaging and entertaining experience for employers and future employees
Get the user hired at a company where they can have a lasting career
Create more balance and transparency in hiring process and better employee retention rate by offering greater insight on employee talents (hard skills + Soft skills)
Group
Jessica Kim, Daniel Lee, Jongho Lee
My role in group
Lead Researcher
UX/UI designer
Information Architect
Tools
Sketch, InVision, Axure, Illustrator, Photoshop
Category
SAAS platform
Timeframe
2 weeks
Success for your company: SMART HIRE SAAS PLATFORM
Step 1: DISCOVERY/RESEARCH
C&C Analysis
We found two companies, Plum IO and Blendoor, that were similar to our client's business direction, but not direct competitors. Plum IO utilizes personality tests to find the best candidate while Blendoor incorporates blind resumes and focuses on hard skills to find the best candidates for their customers.
We conducted Task Analysis of one of our competitors, Plum, to understand and analyze their business model. Users (employers) invite potential employees to take personality test to make better decision on hiring.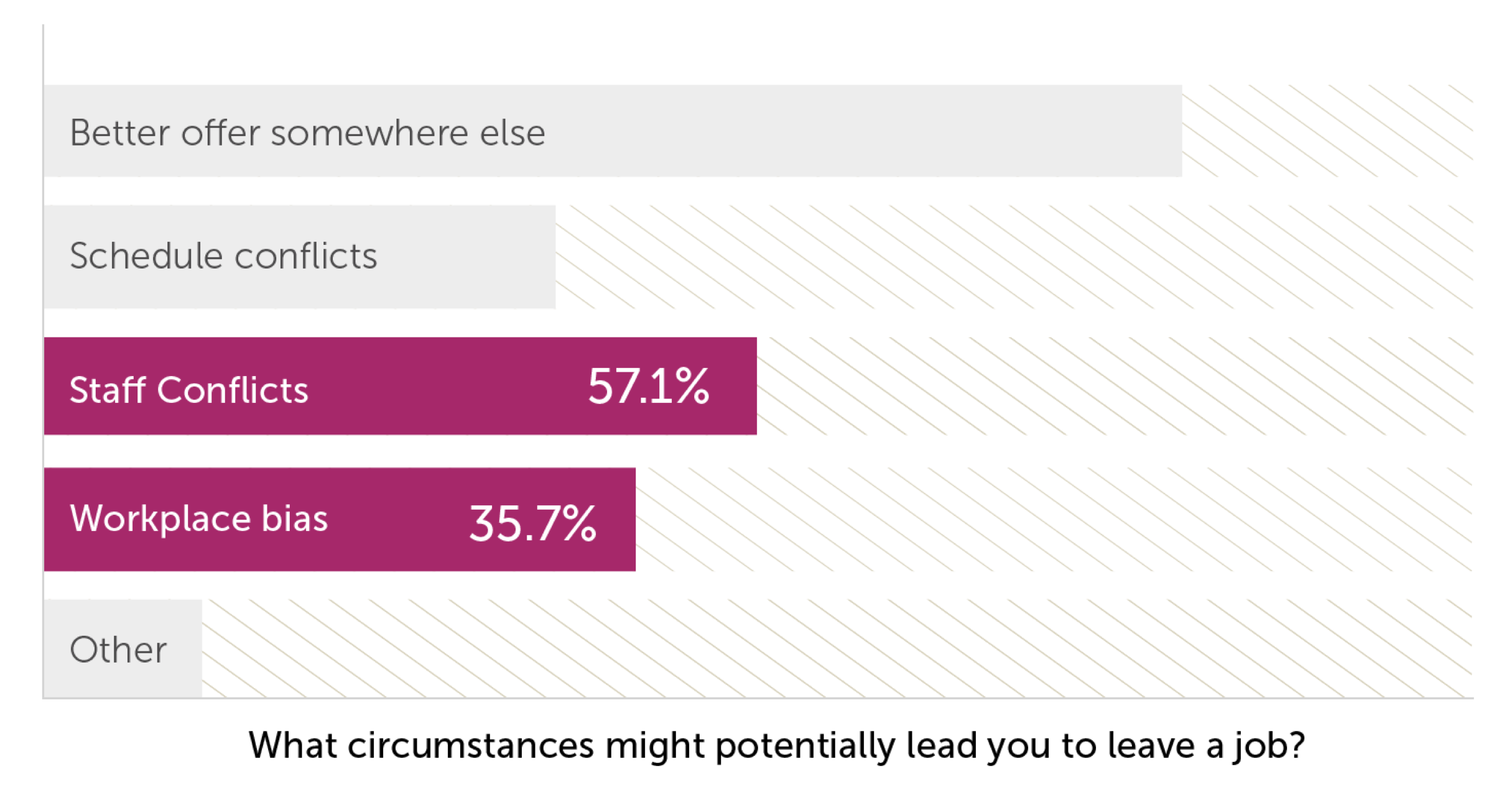 We sent out surveys to both employers and employees. Employers were asked what about work efficiency mattered to them, and employees were asked if they've ever left a job and why.
Interview
We placed our focus on employers since they are our users. We realized that lean UX is needed to improve hiring process.
Key Insights/Synthesis
Employers want cohesive work environment, but not willing to have their employees take personality test
Most employers are skeptical about personality test
Workplace bias and staff conflicts are some of the top reasons as to why employees would leave a job
Goals
Finding an employee that won't leave after a couple of months
Finding an employee who gets along with the rest of the staff
Having an easier system in place during hiring to see if the new hires would be a potential fit based personality
Pain Points
When I hire an employee and then they quit quickly
Hardest issue is identifying if they are being real or fake
Find employees that will get along with each other and respect one another
We solicited ideas and consensus about how to organize a body of information for hiring process. We confirmed data acquired during surveys and interviews was being analyzed and categorized. We started having clearer picture of users' needs. Research-backed facts helped us to reinforce some of the more subjective observations we've collected from in-person interviews.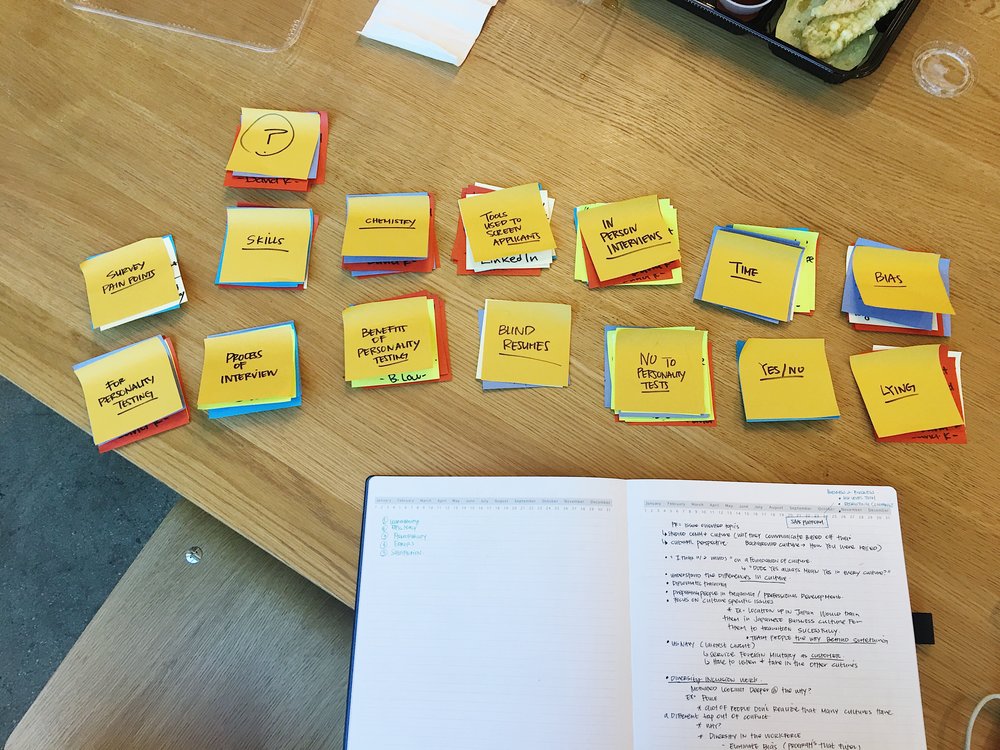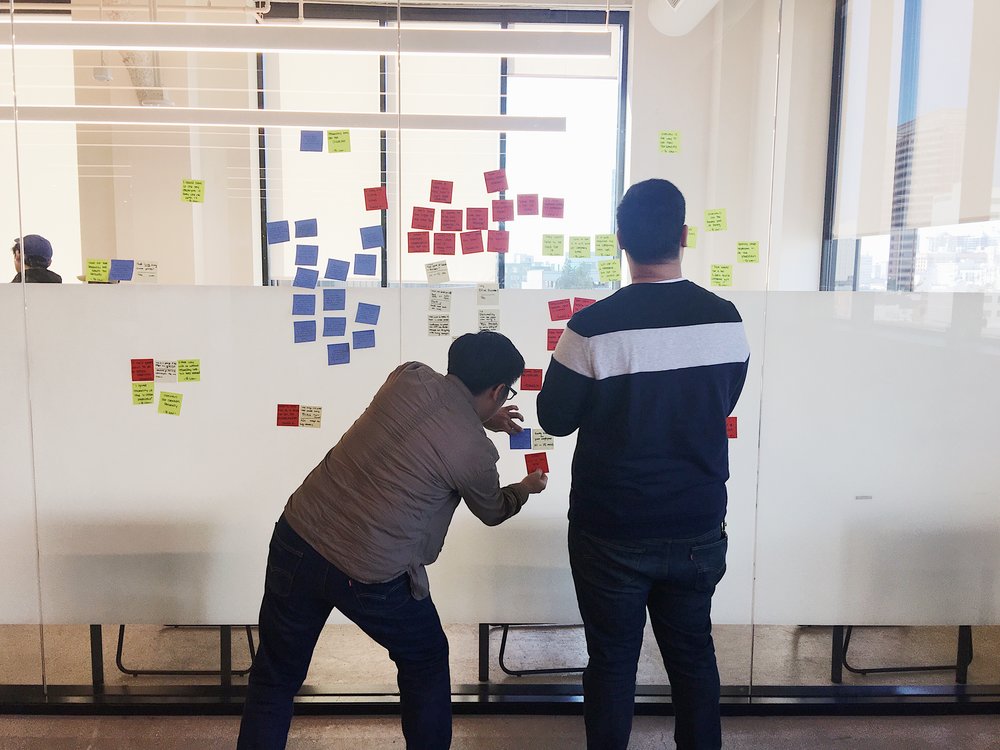 User Flow
With persona, we were able to create feasible scenario for users. In order to publish a job posting, users go through blind resume, personality test, blind-select candidates for review and finally schedule an interview to maximize the possibility of picking the best candidates.
User Flow - In Depth
Our group spent days getting user flow seamless and easy to use and made sure that smart filtering was applied in the right way.


With all the research we conducted, the creation of a SAAS platform for a website allowed us to understand where we are as users, and where the information we want is in relation to our position. Information architecture resulted in the creation of site maps, hierarchies, categorizations, and navigation.
Key Insights
Personality test and blind resume are much needed to filter qualified candidates
Small to medium size companies will need our smart hire platform since HR is not their strong department
Design Studio method for days helped us figure out efficient user flow
Medium Fidelity Wireframes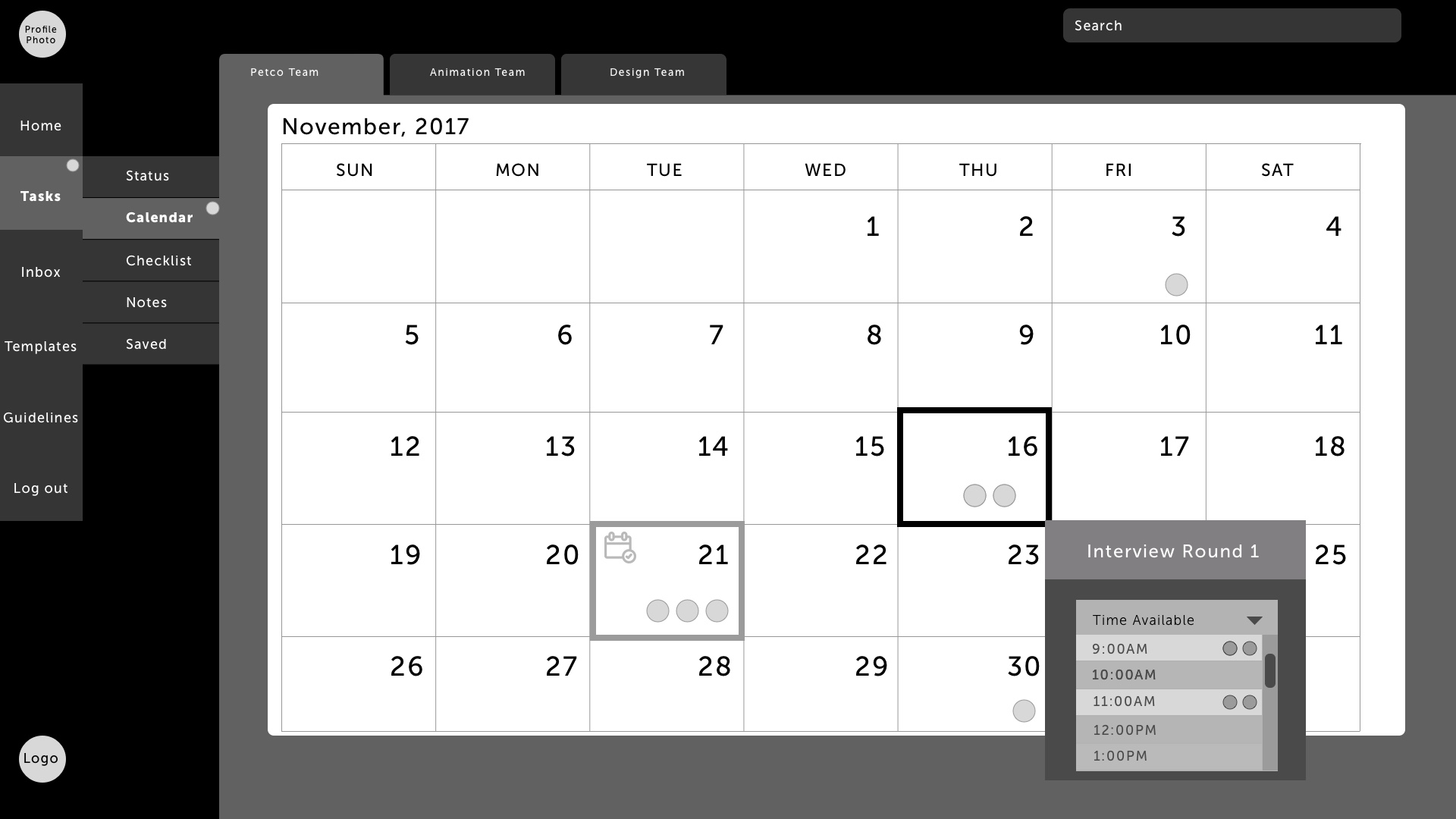 High Fidelity Prototype
In hiring, our research shows combining hard skills and soft skills is the best way to find the best candidates. Our client provided us the personality test questionnaires which allow users to filter to better candidates for work comparability, longer employee retention rate, better team management.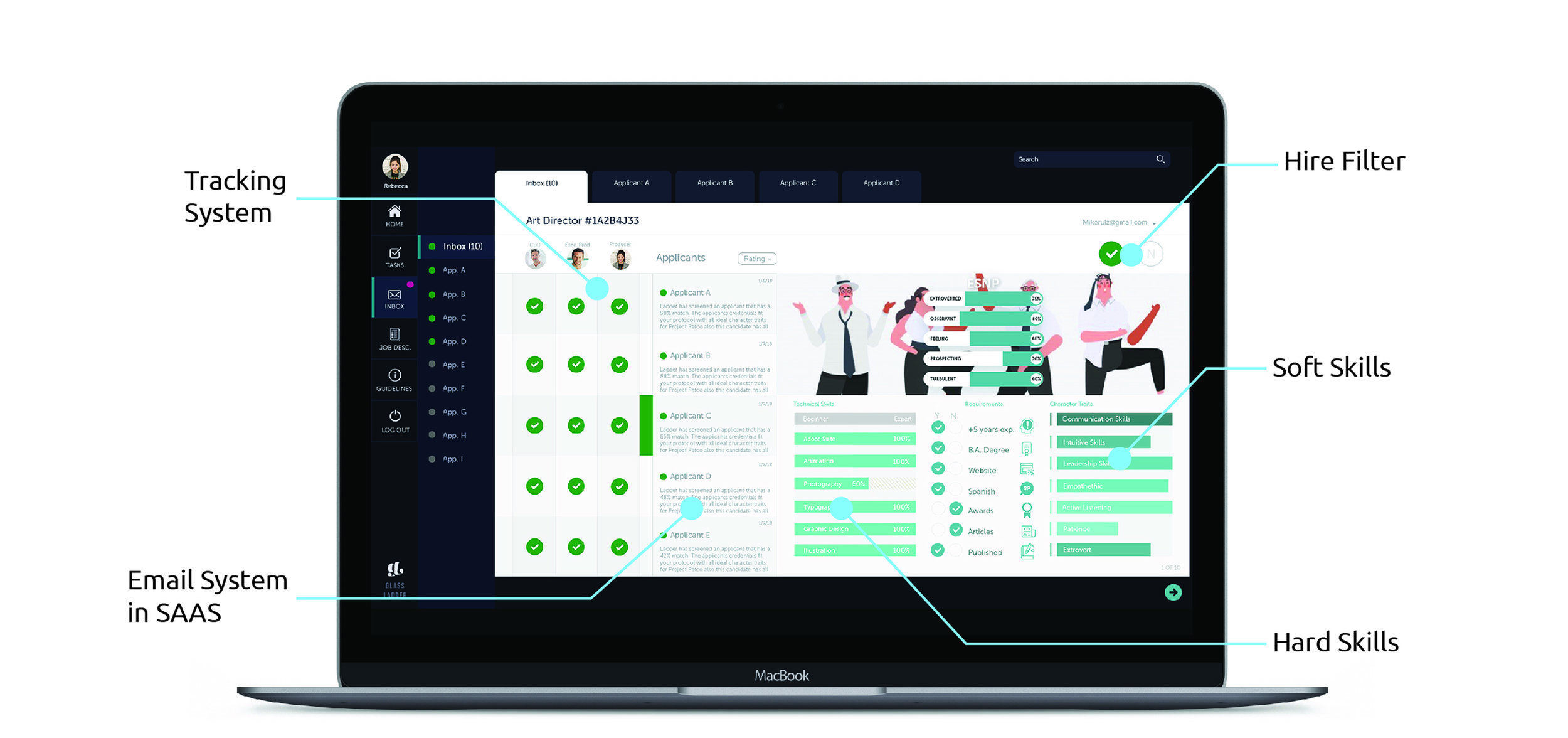 Key Takeaways
Employers (users) want their employees to get along. When they do, it's just naturally good for work productivity
Small - Medium sized companies were more inclined to utilize the personality tests since they don't have an established HR department
In hiring, combining hard skills and soft skills with blind application would be the best way to find qualified candidates before in-person interview as the last step for hire
What's next?
More user testings on how users might use this SAAS platform, and how the interface can be updated based on their behaviors
Find out how to best notify users about updates.